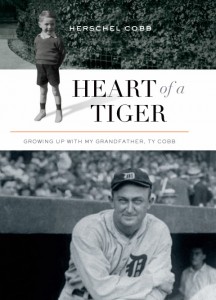 Herschel Cobb is the grandson of Ty Cobb. He lives in Menlo Park, California.
Ty Cobb is a baseball immortal, considered by many the greatest player who ever lived. In an age when the game was young and tough, he cultivated a reputation as the fiercest competitor of them all. Yet after he retired, he realized that the very qualities that had helped him reach the pinnacle of his profession also undermined his relationship with his own children.
Herschel Cobb grew up in a chaotic, destructive household. His father was cruel and abusive, and his mother was an adulterous alcoholic. After his father died when Herschel was eight, he began to spend a portion of each summer with his grandfather. Along with his sister and brother, Herschel visited Ty Cobb at his home in Atherton, California, or at his cabin at Lake Tahoe. These days were filled with adventures and discoveries as "Granddaddy" warmed to having his "three redheads" with him.
Heart of a Tiger is Herschel Cobb's moving account of how a retired sports star seized a second chance at having a close family, with his grandchildren the lucky recipients of his change of heart. He proved the enormous power of a grandparent to provide stability, love, and guidance, and in doing so developed another wholly different legacy.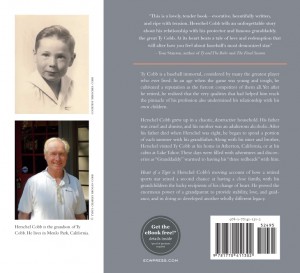 We sat at the table in the kitchen. In the dull light, glancing at each other, munching away. I enjoyed being with Granddaddy, alone, eating Ritz crackers, late at night. I didn't want it to end, so I kept eating crackers and sipping milk. Then he stood up and went to the sink to get a glass of water, and I saw his legs again.
"Granddaddy, what happened to your legs?" I was hesitant to pry, but shocked and couldn't imagine how much they must hurt. I wanted to know what had happened to him.
He looked down at himself, almost as if he were discovering something new. "Oh, that. When I first started, you know, broke into the majors, I was pretty fast. I figured when I got to first base, the base path to second and third belonged to me. That's the rule. I liked to steal second, and third. It really rattled the pitcher and his infield. And I was pretty good at it. You know, I told you about the sliding pit in my back yard. I started practicing before I was fifteen. So I stole as often as I could."
He sipped his water before he went on. "I guess, at first, they figured I was lucky, but my hook slide worked nearly every time. In my second year, I started stealing again, as often as I could. They had to try to stop me, so they used their spikes on me. They wanted to scare me."
"This is a lovely, tender book—evocative, beautifully written,
and ripe with tension. Herschel Cobb tells an unforgettable story
about his relationship with his protector and famous granddaddy,
the great Ty Cobb. At its heart beats a tale of love and redemption that
will alter how you feel about baseball's most demonized star."
—Tom Stanton, author of Ty and The Babe and The Final Season